Love for a Lifetime.
"Whatever our souls are made of, his and mine are the same." - Emily Brontë

If you're reading this, congratulations on your engagement!!! For us lovers of Emotion, you can imagine how we feel on a Wedding day. The groom's first look of the love of his life, the walk down the aisle, the teary 'I do's', the father-daughter dance... We absolutely love being able to capture these once-in-a-lifetime moments and are proud to say that we've been a part of over 4,000 weddings to date. Of course every Love Story is unique and we make sure to tailor our work to the Bride & Groom's wishes. Tell us your Love Story!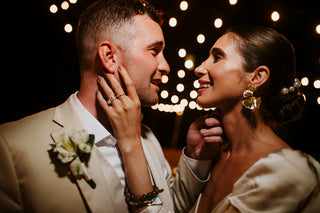 Our Services
With over 4,000 weddings, our seasoned team has covered numerous weddings across Mexico's luxury hotels and are trained to the highest of standards in the Luxury Wedding Industry. We promote the "French Touch" through first class
service and unprecedented photography and videography quality. Whether you're having a religious, civil, symbolic ceremony or an intimate gathering, we are highly experienced to capture every moment of your Special Day, so that you feel your Love for a Lifetime.
Our Weddings Portfolio
Our portfolio is a testament to the diverse, unique, and heartfelt stories we've been privileged to capture.
Why Choose Us for Your Wedding Photography?
Experienced Hands: With over 4,000 weddings, our international team has covered numerous weddings across Mexico's luxury hotels and are trained to the highest of standards in the Luxury Wedding Industry.
Cultural Sensitivity: Understanding and respecting traditions is our forte. We pride ourselves on capturing weddings with a touch that reflects the authentic essence of both the location and the couple's journey. We are even

South Asian wedding

certified.
State-of-the-art Equipment: We employ the latest in photography technology, ensuring each shot is crystal clear, color-perfect, and captures the mood to perfection.
Personal Touch: Our personalized photography services capture Real Emotion, one that is beautiful and unique to you, during each moment of your Special Day. From the Getting Ready, to the Ceremony, to the Reception, or even the Trash the Dress, we make sure to tell your distinct love story through our work, always in line with your vision and your expectations.
Destination Wedding Guide
What is Wedding Photography?
Wedding photography encompasses the art and craft of chronicling the union of two individuals as they embark on their journey of love and commitment. It's a delicate balance of capturing candid emotions, timeless rituals, and vibrant celebrations. A wedding photographer plays an instrumental role, ensuring that every laugh shared, every tear shed, and every dance move is preserved for eternity.
Why Choose a Destination Wedding Photographer in Mexico?
Mexico, with its pristine beaches, rich cultural tapestry, and luxurious hotels, is a dream destination for weddings. A destination wedding photographer brings:
Local Expertise: An intimate knowledge of Mexico's best spots, especially the breathtaking luxury hotel locales, ensures that the backdrop to your wedding story is as enchanting as the tale itself.
Adaptable Skills: Destination weddings come with their unique set of challenges, from unfamiliar terrains to varying lighting conditions. A destination wedding photographer is adept at turning these challenges into opportunities for stunning shots.
Cultural Nuance: Especially in a culturally rich place like Mexico, a wedding photographer can weave in local traditions, enhancing the global-yet-personal feel of the celebration.
How Does a Wedding Photographer in Luxury Mexican Hotels Enhance the Experience?
Elevated Elegance: Luxury hotels in Mexico, with their opulent settings and stunning architecture, serve as magnificent canvases. The wedding photographer, with their expertise, can leverage these locales to craft images dripping in elegance.
Integrated Themes: Whether the couple desires a beachfront wedding with the sunset hues or a grand ballroom extravaganza, luxury hotels offer diverse settings. The photographer can integrate these themes, ensuring the photos resonate with the wedding's ambiance.
Logistical Ease: Opting for a wedding photographer familiar with Mexico's luxury hotel landscape ensures smooth logistics. They know the best spots, the right time, and can often offer insider tips that can elevate the photography experience.
What Should Brides and Grooms Consider When Selecting a Wedding Photographer?
Portfolio Review: Before zeroing in on a wedding photographer, it's essential to review their portfolio. This gives insights into their style, expertise, and the kind of stories they craft.
Testimonials & Reviews: Past client experiences can be a goldmine of information, helping gauge the photographer's professionalism, approachability, and dedication.
Chemistry Check: It's crucial that the couple feels comfortable with the photographer. A pre-wedding meet or a casual session can help establish this rapport.
Why is Wedding Photography So Important for Brides and Grooms?
Documenting a Milestone: For many couples, their wedding day is a culmination of dreams, planning, and emotions. Wedding photographs offer a tangible memory, allowing them to relive the magic anytime.
Capturing Raw Emotions: From the nervous anticipation before the vows to the joyous celebration at the reception, a wedding is a whirlwind of emotions. Through wedding photography, these moments become timeless.
A Keepsake for Generations: These photos aren't just for the couple. They serve as a visual legacy, to be cherished by future generations as they glimpse into the past.
The Synergy Between Wedding Planners and Wedding Photographers
A wedding planner orchestrates the flow of the day, while a wedding photographer chronicles it. This synergy is vital. Wedding planners, with their detailed timelines and venue arrangements, ensure that ceremonies progress smoothly. Meanwhile, photographers, clued into these plans, can position themselves perfectly, ensuring no moment goes uncaptured. Especially in a destination wedding, this collaboration becomes even more crucial to ensure that both the visuals and the experience are seamlessly integrated.
Exploring Wedding Venues in Mexico
Mexico's rich tapestry of venues is nothing short of a dream for any couple.
Beachfront Resorts: Imagine saying your vows with the azure sea as your backdrop and golden sands beneath your feet. Mexico's coastline is dotted with luxurious resorts that offer this very dreamy setting.
Historic Haciendas: For those looking for a touch of history and grandeur, the colonial-era haciendas, with their vast courtyards and historic charm, are perfect.
Opulent Ballrooms: For couples who envision a grand celebration, Mexico's luxury hotels boast ballrooms that redefine elegance. Paired with a skilled wedding photographer, these venues come alive, mirroring the couple's grand vision.
In a land as diverse and vibrant as Mexico, every wedding venue has a unique flavor. The key lies in selecting one that resonates with the couple's dream and then immortalizing their story against this backdrop.
What is a "Trash the Dress" Photoshoot?
A 'Trash the Dress' photoshoot is one where the bride 'trashes' her dress by getting it wet, sandy or even by dirtying it a little.
While beaches often serve as the popular backdrop for these daring dress adventures, the beauty of cenotes and lakes also provide enchanting settings. For those couples who really want to dive into the deep end of love, underwater shoots offer extraordinary snapshots of their bond, creating otherworldly keepsakes.
Why Wedding Photography in Mexico's Luxury Hotels is a Dream Come True
For brides and grooms eyeing a destination wedding, Mexico stands out with its blend of natural beauty, cultural richness, and luxurious amenities. By choosing a wedding photographer adept at encapsulating this essence, couples ensure that their wedding story isn't just told; it's celebrated, cherished, and relived. Whether it's the intimate moments shared on a balcony overlooking the sea or the grand celebrations in opulent hotel ballrooms, every frame becomes a testament to love, commitment, and the start of a beautiful journey together.
Interested in our wedding services? Get in touch! Our Wedding Coordinator will be delighted to talk about your dream Wedding photos!