In recent years, the realm of wedding photography has witnessed the adventurous rise of a trend that breaks away from tradition: the "trash the dress" photoshoot. As this trend gains momentum, let's explore its essence and see why Mexico's breathtaking landscapes provide the perfect canvas.
Trash the Dress in Mexico: Your Ultimate Guide
What is a "Trash the Dress" photoshoot?
At its core, a "trash the dress" photoshoot is a post-wedding session where brides (and sometimes grooms) indulge in a range of activities that might get their wedding attire dirty, wet, or even slightly ruined. It's a departure from the usual pristine and choreographed wedding photos, offering couples a chance to capture raw, unfiltered moments filled with fun, laughter, and sometimes, sheer audacity.
The photos are taken in the most stunning of locations. A beach would be the usual setting for a Trash the Dress photoshoot, but cenotes and lakes are also commonly used. The most daring couples opt in for underwater shoots resulting in extraordinary memories of their bond.
Why is Mexico the Ideal Location for a "Trash the Dress" Photoshoot?
Mexico, with its vibrant culture and diverse natural landscapes, offers the perfect setting for such shoots. From its pristine beaches to its mystical cenotes, there's a location to fit every couple's fantasy. Add to that the golden sunsets and historic ruins, and you have a backdrop that promises photos bursting with life and story.
Why Choose a "Trash the Dress" Photoshoot?
Breaking the Mold: Traditional wedding photos are timeless, but trash the dress adds an edgy, contemporary touch to your wedding album.
Celebrating Liberation: After months of meticulous planning, this photoshoot offers couples a chance to let loose, marking the culmination of wedding festivities with an exclamation point.
Unique Memories: The resulting images are often candid, capturing spontaneous reactions and genuine emotions.
What makes "Trash the Dress" photoshoots unique compared to traditional wedding photography?
While traditional wedding photography captures the elegance, love, and formal moments of a wedding, Trash the Dress sessions are about letting loose, being adventurous, and creating art. It's about celebrating love in an unrestrained environment and making memories that stand out.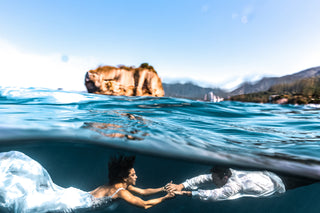 Where are the best locations for a 'Trash the Dress' session?
Trash the Dress photos are taken in the most stunning of locations. A beach would be the usual setting for a Trash the Dress photoshoot, especially in Mexico, but cenotes and lakes are also commonly used.
Mexico boasts pristine beaches along its Riviera Maya, the mystical cenotes scattered across the Yucatan Peninsula, colonial-era ruins, and lush jungles. Each locale offers a distinct atmosphere, from Tulum's beaches to the serene waters of Cenote Azul. If you're curious, have a read of our top 5 cenotes near Playa del Carmen.
Why are cenotes popular for Trash the Dress photoshoots in Mexico?
Cenotes, natural sinkholes resulting from collapsed limestone bedrock, are unique to the Yucatan Peninsula in Mexico. Their clear, turquoise waters surrounded by rock formations and lush vegetation are ethereal. Cenotes offer a magical environment that's both intimate and grand, making them a sought-after location for Trash the Dress shoots.
How to Prepare for a "Trash the Dress" Photoshoot in Mexico?
Pick the Right Dress: While it's called "trash the dress," many brides opt for a less expensive dress for this shoot, preserving their actual wedding gown.
Plan Activities: Decide in advance what you'd like to do. Whether it's jumping into a pool, playing with vibrant paint, or simply frolicking on the beach, a plan helps in capturing the best moments.
Hire Experienced Photographers: Photographers familiar with the trend and the locale can guide couples in making the most of the experience.
Is the dress actually "trashed" during the shoot?
Not necessarily. The term "Trash the Dress" is more symbolic of the idea than a literal action. While the dress might get wet, sandy, or a bit dirty, it doesn't mean it's ruined. Many brides have their dresses cleaned and preserved post-shoot without any issues.
What should one expect in terms of photography expertise?
Choosing a professional photography company, especially one familiar with Mexico's terrain and luxury hotels, ensures high-quality captures. Expert photographers know the right angles, lighting, and techniques to make the most of each setting. They can guide the couple, ensuring safety while achieving dynamic shots, be it underwater in a cenote or on a sun-kissed beach.
Why should brides and grooms consider this type of photoshoot?
A Trash the Dress photoshoot is an opportunity to relive the wedding excitement in a more relaxed manner. It's a chance to wear the dress again, create extraordinary memories, and have images that differ from standard wedding albums. Plus, doing it in Mexico, with its rich tapestry of locations, ensures a unique experience.
Why We Love Trash the Dress
We are huge fans of 'Trash the Dress' photoshoots. We love that the whole session can feel like a fun, rebellious act of freedom and we love seeing our clients' reactions to being taken out of their comfort zone slightly.
We also believe that Trash the Dress is a fascinating combination of Luxury and Art, intertwining glamourous bridal imagery with real artistic expression. DreamArt Photography is a team of artists and so a Trash the Dress session provides the perfect scenario to manifest our passions.
A Trash the Dress photoshoot can happen at any time. It does not have to be straight after the wedding by any means. For this reason, we love that it makes for a great reason to don the painstakingly chosen wedding dress once again, especially in a light-hearted environment with no pressure.
Why Choose Us for Your "Trash the Dress" Photoshoot?
Having shot numerous sessions in and around cenotes, we understand their intricacies. From ensuring safety protocols to knowing the right angles to capture the mesmerizing beauty of these natural wells, our experience is unmatched. Furthermore, our local connections mean hassle-free permissions and access to some of the most pristine, lesser-known cenotes.
Local Expertise: As photographers entrenched in Mexico's luxury hotel scene, we know the best spots and times for an unforgettable trash the dress session.
Safety First: While we encourage fun, we ensure that all activities are safe and in line with the hotel's guidelines.
Tailored Experience: We understand every couple is unique. Whether you wish for a quirky, romantic, or bold photoshoot, we mold the experience to resonate with your vision. Our core concept, the 'Art of Emotion' means that we will always put the customer experience first, as this not only enriches the session for the customers, but allows genuine emotion to shine through in the photos.
"Trash the Dress" in Mexico is not just a photoshoot; it's an experience—a blend of adventure, romance, and art. For couples looking to immortalize their love in a distinctive way, it's a journey worth taking.