When you're ready to pop the big question, every detail counts. You've got the perfect ring, you've practiced your words, and now, you need the perfect backdrop to seal the memory. Where better than the stunning landscapes of Mexico? And with engagement photography capturing every minute of your proposal, those feelings of surprise, elation, and love can be immortalized forever.
Why Choose Professional Engagement Photography?
Engagement, a significant milestone in a couple's journey, is infused with raw emotions, from hopeful anticipation to pure elation. Capturing these fleeting moments requires more than just a camera; it requires the refined touch of professional engagement photography. With the ability to transform a mere instant into a timeless memory, a professional photographer possesses both the technical know-how and the artistic vision to encapsulate the essence of the occasion.
Choosing professional engagement photography ensures that every nuanced expression, every stolen glance, and every radiant smile is documented in the highest quality. As you embark on this new chapter, you're not just taking photos; you're crafting a legacy. These images will serve as cherished heirlooms, narrating your love story for generations to come.
In an era where moments are often reduced to fleeting digital images, opting for professional photography guarantees a tangible and beautiful testament to your commitment. Whether it's a candid laugh or a gentle touch, let a professional capture your engagement in all its authenticity.
Why Opt for a Proposal Photoshoot in a Mexican Luxury Hotel?
Mexico's luxury hotels provide not just a backdrop but an experience. From private beachfront dinners under the stars to rooms adorned with rose petals, these hotels know how to set the stage for romance. Most of them even collaborate with photographers, ensuring that the entire proposal, from start to finish, is captured without a hitch. Looking for the perfect hotel and the most romantic ideas for your proposal? Have a read of '8 stunning locations to pop the question in Mexico'.
Why Choose Us for Your Proposal Photography?
Choosing the right photographer for one of the most significant moments of your life is crucial. With over 1,000 proposal photoshoots, DreamArt Photography is highly experience to capture your 'Yes' moment!
Experience: Our team is adept at capturing the raw, unscripted emotions that come with proposals. Years in the field have equipped us with the skill to anticipate and immortalize these fleeting moments.
Discretion: We understand the essence of surprise in proposal events. Our photographers are trained to operate covertly. We'll discuss a signal before the photoshoot ensuring your partner remains oblivious until you're ready for the big reveal.
Quality: Using state-of-the-art equipment, we guarantee photographs that are not only emotionally rich but also of impeccable quality.
Location Knowledge: Being based in Mexico and frequently working in luxury hotels, we're familiar with the most scenic, romantic, and often secluded spots that will add an extra layer of magic to your photographs.
Post-Production Excellence: Our commitment doesn't end at the click of the shutter. Our post-production team ensures each image is meticulously edited to enhance its beauty, ensuring you have a memory that's as vivid as the moment itself.
In essence, choosing us is entrusting your special moment to a team that values it as much as you do. Our aim is to make your proposal not just a memory, but a piece of art that stands the test of time.
Choosing to propose in Mexico already sets the stage for an unforgettable experience. By pairing this with professional engagement photography, especially within the luxurious confines of the country's premium hotels, you're ensuring this pivotal moment is captured with all the emotion, joy, and beauty it deserves. Remember, it's not just about the question but about making the entire experience memorable. With Mexico as your backdrop and a skilled photographer by your side, you're well on your way to crafting a memory that will be cherished for a lifetime.
Interested in our engagement services? Our photographers are sure to capture every second of your big moment!
Blog posts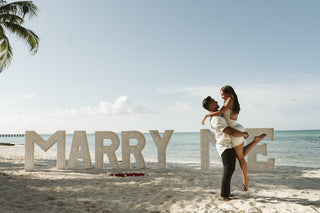 Getting engaged will undoubtedly be one of the most memorable days of your life. Figuring out the the when, the how and the where is no short feat, we're sure many can...
Characterised by its endless white sandy beaches, colourful town centre and exquisite gastronomical possibilities, Los Cabos is the perfect location for a honeymoon getaway. One of the most popular travel...