A beach wedding is a romantic ceremony held on the shores of a beach, where the natural splendor of the sea and sand becomes the setting. Unlike traditional church or indoor weddings, beach weddings merge the sanctity of the vows with the raw beauty of nature. The rhythmic waves, golden sands, and vast horizon provide a serene and picturesque backdrop, making the occasion even more magical. These weddings can be as formal or as casual as the couple desires. From barefoot ceremonies with simple decorations to lavish setups complemented by beachfront banquets, beach weddings encapsulate a spectrum of styles and vibes. The inherent romance of the setting, combined with the sound of waves and the gentle sea breeze, brings a unique and unforgettable ambiance to the special day.
With over 4,000 beach weddings under our belt, keep reading for our ultimate guide to a beach wedding in Mexico!
Beach Weddings in Mexico: Your Ultimate Guide
What is the allure of beach weddings in Mexico?
Sun-kissed shores, the rhythmic sound of waves crashing, a romantic sunset as your backdrop—this is what beach weddings in Mexico offer. Mexico, with its pristine beaches and luxury hotels, has emerged as a coveted wedding destination for countless brides and grooms. Combining natural beauty with world-class amenities, it's no surprise why beach wedding Mexico events are in such high demand.
Why are beach weddings in Mexico increasingly popular among U.S. couples?
Proximity plays a role. For U.S. couples, Mexico provides an exotic yet accessible escape. The ease of travel, coupled with Mexico's diverse coastal locales, makes it an attractive option for those seeking a tropical wedding without the lengthy flights. Moreover, the cost-effectiveness of a beach wedding in Mexico, compared to other international destinations, can allow couples to enjoy luxury without breaking the bank.
How do luxury hotels in Mexico cater to beach weddings?
Luxury hotels in Mexico, many of which are located along the coast, have honed their wedding services to perfection. From intimate beachfront ceremonies to grand ballroom receptions, these hotels offer packages that cater to a range of wedding dreams. Expert wedding planners, gourmet catering, spa services for relaxation before the big day—every detail is meticulously crafted.
What unique elements can you incorporate in a beach wedding in Mexico?
Mexican culture is rich and vibrant. Why not infuse your wedding with local customs? From Mariachi bands serenading your procession to traditional Mexican wedding rituals, there's an array of options to make your day stand out. And let's not forget the food—a Mexican feast can be a delectable highlight of your celebration.
How do seasons impact beach weddings in Mexico?
Mexico, being a vast country, has varied climatic zones. However, the coastal regions, especially popular spots like Cancún, Playa del Carmen, and Tulum, have a tropical climate. While the beaches are beautiful year-round, it's wise to consider the wet season, which typically runs from May to October, as there could be unexpected showers.
Is it essential to hire a local photographer for your beach wedding in Mexico?
While not mandatory, hiring a local photography company, like DreamArt Photography, offers unparalleled benefits. We are not only familiar with the best beach spots, lighting conditions, and scenic vantage points but also understand the local culture, ensuring every significant moment is captured. With over 4,000 weddings across Mexico, our experience with beach weddings and luxury hotels gives us an added advantage, ensuring smooth coordination and perfect shots.
What legalities should U.S. couples be aware of for beach weddings in Mexico?
It's pivotal to understand that symbolic and legal ceremonies are distinct. While symbolic ceremonies can be executed without much paperwork, for a wedding to be legally binding in your home country, certain documents and blood tests are required. It's recommended to arrive a few days prior to fulfill these formalities.
How can couples ensure their beach wedding in Mexico stands out?
Beyond the quintessential beach setup, think of unique themes, color palettes, and décor elements that resonate with your personal story. Incorporating sustainable practices, like eco-friendly invitations or locally sourced favors, can also make your celebration memorable and responsible.
What are beach wedding trends in Mexico?
Mexico's beach weddings are renowned for integrating global trends with local flair. Some emerging trends include:
Eco-Friendly Celebrations: With the stunning natural environment as the backdrop, many couples are opting for sustainable weddings. This includes using biodegradable decor, local flora for decoration, and reducing wastage.
Cultural Infusion: Incorporating traditional Mexican elements, like Mariachi bands or vibrant 'papel picado' (cut paper) banners, adds a unique touch to the beach setting.
Themed Weddings: From Boho-chic to tropical luau, themed beach weddings are gaining popularity. The themes not only add a fun element but also provide a cohesive aesthetic for photography.
Tips for Brides and Grooms Planning a Beach Wedding in Mexico
Dress Appropriately: While a beach setting is gorgeous, it's also sandy and can be windy. Opting for flowy dresses and ditching high heels for wedges or even elegant sandals can make a difference.
Consider Guest Comfort: If the sun is expected to be particularly strong, providing shades, fans, or even personalized sunglasses can make guests more comfortable.
Backup Plans: While the beach is beautiful, nature can be unpredictable. Always have a backup plan, like a nearby indoor venue or tents, in case of sudden rain.
Maximizing Your Beach Wedding Photography
Engagement Shoots: Consider having an engagement shoot at the beach. It not only allows you to get comfortable with the photographer but also offers a chance to experiment with styles and poses. Learn more about engagement photoshoots.
Utilize the Landscape: Mexico's beaches offer more than just the sea. The palm trees, rocks, and local architecture can all serve as unique backdrops.
Night-time Shots: Don't just limit your photos to daylight. Beaches at night, especially with the reflection of the moon on the waves, can make for some ethereal shots.
Trash the Dress: Get the most unique shots with a sandy dress or underwater shoot. Learn more about Trash the Dress.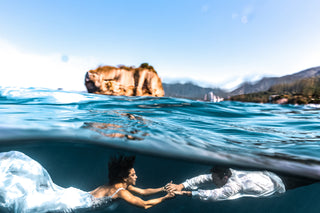 What are the must-have photo moments for a beach wedding in Mexico?
Capture the essence of Mexico's coastline with sunrise or sunset shots, candid moments against the vast ocean, and photos that encapsulate the beach's natural beauty—palm trees, golden sands, and azure waters. With us as your photographers, you're guaranteed a portfolio that beautifully narrates your beach wedding story.
A beach wedding in Mexico is more than just an event; it's an experience. The mingling of the azure waters with golden sands creates a canvas that's both dynamic and serene. As photographers, our mission is to capture the essence of this experience - the laughter, the tears, the dance, the quiet moments, and the loud celebrations. In the heart of luxury, with the soul of Mexico, your beach wedding is a story waiting to be told. And we are here to ensure it's told beautifully.
Interested in our beach wedding services? Get in touch with a DreamArt Wedding Coordinator! They will be more than happy to discuss your dream Wedding photos!