"The best part of our vacation!"
Family Photography
What is Lifestyle family photography?
Lifestyle family photography is a genre that captures the beauty and authenticity of family. It's not about staging perfect moments; rather, it's about capturing the love, laughter, and even the chaos that make a family unique. The result? A collection of images that are as real and dynamic as the family itself.
Family life is filled with fleeting moments that often go unnoticed – the way a toddler clings to her mother's leg, the loving glances exchanged between siblings, or the infectious laughter at an inside joke. As lifestyle family photographers, our job is to capture these unscripted moments during your vacation in Mexico and turn them into lasting memories.
At the heart of lifestyle family photography is the belief that every family has a story worth telling. This approach goes beyond traditional posed portraits to include candid shots and authentic emotions. It's about capturing the spirit of the family in their natural environment, whether in their stunning hotel, at the beach, or in a cenote.
Why is Family Photography Essential?
Preserving Memories: As the sands of time flow, children grow up, and family dynamics evolve. Family photoshoots offer a moment frozen in time, capturing memories that one can revisit and cherish for years to come.
Milestone Markers: Celebrating a new member's arrival, commemorating an anniversary, or simply marking another year of familial togetherness, family photos serve as beautiful milestone markers.
Building Bonds: The act of coming together for a photoshoot can be a bonding experience in itself. It's a shared event, punctuated with laughter, light moments, and deep connections.
The key to successful lifestyle family photography lies in creating a relaxed and fun atmosphere where families feel comfortable to be themselves. This is where the magic happens. When the family forgets about the camera, they act naturally, allowing us to capture genuine expressions and interactions.
A typical lifestyle family photoshoot is a mix of guided posing and spontaneous action. Over 15 years, we've perfected the art of timing to insure that we capture both to the highest of standards in a fun experience lasting as little as 45 minutes.
Why is Mexico an Ideal Location for Family Photoshoots?
Picturesque Backdrops: Mexico, renowned for its breathtaking beaches, sunsets, and vibrant culture, provides a plethora of backdrops that can elevate any photoshoot.
Diverse Locations: Beyond the beaches, Mexico's luxury hotels offer a blend of opulence and local charm. The intricate architecture, lavish pools, and manicured gardens can serve as dynamic settings for both traditional and lifestyle family photography.
Cultural Infusion: Mexico's rich cultural heritage can be seamlessly integrated into the shoot, whether through traditional attire, local festivities, or incorporating elements of Mexican art and craft.
How to Prepare for a Family Photoshoot in Mexico?
Wardrobe Coordination: While matching outfits can be adorable, coordinating color palettes or themes can make the photographs look cohesive without being overly uniform.
Incorporate Activities: Especially for lifestyle family photography, involving activities like splashing in the ocean, playing with a toy, or exploring the hotel grounds can lead to genuine reactions and interactions.
Discuss Vision: Whilst we have perfected our art over the years, feel free to communicate with your photographer about any specific shots, themes, or ideas you have in mind. Being on the same page ensures the final results align with your vision.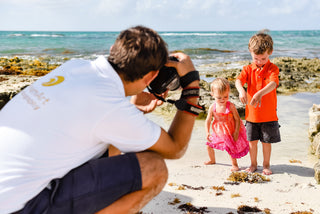 Why Choose Us for Your Family Photography Needs in Mexico?
Expertise: With our experience in photographing luxury hotel guests, we understand the importance of detail and the essence of luxury. We skillfully blend this with the natural beauty of Mexico and the authenticity of familial bonds.
Customized Sessions: Every family is unique. We tailor our sessions to highlight this uniqueness, ensuring each photoshoot tells a distinct story.
Local Insights: Our local expertise ensures that we pick the perfect spots, times, and elements to make your family photoshoot in Mexico a memorable experience.
Family photoshoots, especially the realm of lifestyle family photography, are about more than just taking pictures. They're about capturing the essence of family, the bonds that tie members together, and the shared moments that define their journey. Set against the mesmerizing backdrop of Mexico's beaches and luxury hotels, these moments come alive, painting a picture of love, unity, and the beauty of togetherness.
Questions? Chat with our team!
Have a question about our Lifestyle Experiences? Send an email to our team or send a message in the chat located at the bottom right of the screen.
A few hotels you might have seen us in
Follow us... @dreamartphotography