Valentin Imperial Riviera Maya
The Valentin Imperial Riviera Maya is an award-winning, 5-star, all-inclusive adults-only luxury resort designed in elegant Mexican hacienda style and priding itself in its attention to detail. It offers luxurious accommodations, one of the most breathtaking swimming pools in Riviera Maya, 11 bars, 7 speciality restaurants, 3 swimming pools, 2 buffets, 24-hour room service, and a stunning secluded white sand beach. A plus - we are proud to be the official photography partner for a resort that prioritizes environmental preservation!
Location: The 540-room Valentin Imperial Riviera Maya is set in an exclusive area of the Riviera Maya, known as Playa Secreto, famous for its long stretch of white sand beaches and breathtaking views of the Caribbean Sea.
Hotel Vibe: Embraces a modern hacienda chic atmosphere, reflecting the rich Mexican heritage and offering a unique blend of contemporary luxury and traditional charm.
Unique Selling Point: Boasts adults-only exclusivity, providing a serene and romantic escape for couples. It features stunning beachfront settings, an array of gourmet dining options, and a world-class spa.
All-Inclusive? Yes! Valentin Imperial Riviera Maya is an all-inclusive resort, offering guests an extensive range of dining, leisure, and entertainment experiences, all included.
Who? Valentin Imperial Riviera Maya is an adults-only resort, providing a tranquil environment, making it an ideal choice for couples and honeymooners.
The Experience
Color combos of cream and terracotta predominate in the common spaces, while rooms are traditionally decorated, each and every one boasting its own balcony or patio with lounge furniture. All suites are equipped with a hydro-massage bathtub too. Bouje! The vibe is marble, travertine, and granite, all washed with an earth-tone color palette and finished with the flare of a modern Mexican hacienda.
INSIDER TIP -There's absolutely no need to bring your own shampoo and shower gel as the Valentin have their very own brand of luxurious scented shower products. Thinking how many you can stash in your case on the way home? You're in luck! They're sold at the store at the resort, along with the lobby's signature scent...
The footprint of this hotel is rather large…the grounds are sprawling, with palm trees and lush vegetation nestled between impressive archways, plazas, fountains and grand, vaulted ceiling walkways; getting from one side to another means a 10 to 15-minute walk, so you'll definitely get your steps in!
Get this. The main pool, located a stone's throw from the ocean, is one of the largest pools in the whole of the Riviera Maya! Their Golden pool is built 'lazy-river' style, accessible to guests staying on the ground floor from their terrazas.
Fancy cranking up the luxury notch a little? Privilege guests get reserved cushioned daybeds covered by palapas on the beach…maybe worth enquiring about that upgrade ;)
5-Star Experience
5* service is one thing that crops up again and again in reviews. No wonder why the Valentin Imperial Riviera Maya has such a sky high returning-guest rate! There is such a range of activities, live music, evening entertainment and watersports on offer, it's ideal for those who go a little stir crazy if they spend the whole day on a sunlounger by the pool. From aqua zumba to beach side yoga, latin dance classes under the stars to enjoying a boogie to the in-house DJ at the famous Plaza España, the Valentin Imperial Riviera Maya's Go Team are on hand to really maximize your days on vacation, from dawn to dusk. 
But, for those who really are after just a totally zen experience, visiting the Valentin Imperial Riviera Maya's Aromance spa is a MUST. Featuring holistic therapies designed to enrich and detoxify, a trip to the Valentin Imperial Riviera Maya's spa is a perfect way to enhance your paradisiac vacation.
INSIDER TIP - if you're after something a little more luxurious, treat yourself to the chocolate massage (you'll thank us later!) Remember that if you book through the hotel directly, you'll get spa credit to put towards your treatment!
Dining
All the hassles that can accompany an all-inclusive - uncomfortable plastic wristbands, watered-down drinks and long waits for dinner reservations - are totally absent at the Valentin Imperial Riviera Maya. The all-inclusive perk here is that you can enjoy unlimited dining at 8 luxury restaurants with cuisines ranging from Italian, French and Steak House to Japanese, Mexican and Seafood grill. Mouth watering yet? Us too...
The Valentin Imperial Riviera Maya's dining locations are just magical in the evening. Trees adorned with fairy lights dripping from the branches, tables arranged around the roman-bath-style pool in the centre. Utter tranquility.
INSIDER TIP - Find booking a bit of a chore? Great news! No bookings are required at any of the Valentin Imperial Riviera Maya's restaurants. Simply turn up (in dress code, of course ;)) and dig in! Having said that…if you're after a bit of gastronomic theatrics, the only thing you CAN book for is the Teppanyaki cooking show. Trust us. It's totally worth it.
If you have a passion for exquisite dining experiences, you're in for a treat at Valentin Imperial Riviera Maya. We've listed all the diverse dining options that will tantalize your taste buds...
Taman Sari - Indulge in the unique fusion of Indonesian, Vietnamese, and Thai flavors crafted from the finest ingredients, curries, and seasonings. Let your taste buds embark on an unforgettable journey through Asia, a true Maharaja of flavors at Taman Sari.
La Hacienda - Mexican cuisine with a modern twist on specialties from Veracruz, Puebla, and Yucatán. Explore traditional flavors, textures, and aromas in exquisite dishes of Mexican haute cuisine. Watch their skilled chefs prepare these fine dishes in a dynamic kitchen as you savor the unique gourmet atmosphere.
Ginger - Immerse yourself in the mystique and beauty of Japan with three distinct dining experiences. Sushi at the sushi bar, dine a la carte in the heart of the restaurant, or witness a live cooking show at the teppanyaki tables. Their expert chefs draw inspiration from traditional Japanese cuisine to create dishes bursting with flavor.
L'Alsace - Experience the elegance of French cuisine in a romantic setting as their executive chef and team craft classic dishes with a modern twist, using the finest and freshest ingredients to elevate your vacation dining experience.
L'Olivo - High-quality Italian dishes made from seasonal, fresh ingredients, including handmade pasta. It's a must-visit for a blend of classic homemade flavors with a modern Mediterranean touch.
Le Marché - An international buffet for breakfast and lunch, offering diverse options. Enjoy breakfast with fresh juices and an à la carte choice. Lunch features salads, live cooking, and daily themed meals from around the world, with air-conditioned seating.
Mar - A delightful breakfast and lunch, featuring live cooking stations and a diverse salad bar. In the evening, it becomes Mar & Lobster Pot, focusing on seafood with culinary influences from various regions, including New Orleans-Cajun, Veracruz, Peru, and the Caribbean.
Tierra - An exquisite breakfast and lunch experience with customizable options. In the evening, it turns into an open-air grill serving American and Argentine specialties. Enjoy show cooking stations and a diverse salad bar during the day.
Each restaurant and cafe at Valentin Imperial Riviera Maya provides a distinct culinary experience, ensuring that guests have a wide variety of dining options to choose from during their stay. Enjoy the diverse flavors and ambiance that each venue has to offer.
The Valentin Imperial Riviera Maya also spoils their guests with a range of different bars in spectacular locations…well, its actually 11 bars to be exact. Here's a couple of our top picks…
Both the Sunrise and Sunset Bars are positioned perfectly so you can enjoy your cocktail while watching the sun peep out first thing in the AM or melt drowsily into the horizon at the end of the day. Take advantage of the swim-up cocktail bar, aptly named 'Heaven Bar', or enjoy a hand-rolled Cuban cigar with hookah pipes at the Salón Partagas Cigar Lounge. If you're after something a little classier and elegant, Don Miguel is a cocktail lounge with an atmosphere perfect for meetings of any sort. Grab your book and watch the world go by at the Martini Bar or while away a romantic evening at Plaza España, the main outdoor atrium by the lobby.
So, there you have it - the Valentin Imperial Riviera Maya is more than just a resort; it's an adults-only immersive journey into luxury and relaxation. From its exquisite dining options and serene spa to its lavish suites, every moment spent here is a cherished memory in the making.
Are you staying at the Valentin Imperial Riviera Maya soon? Remember to book your beach-side photoshoot with DreamArt Photography to capture your dreamy weeks away with the ones you love!
And here are a few wedding memories in paradise...
Planning to say 'I do' at the beautiful Valentin Imperial Riviera Maya? Get in touch with our Wedding Coordinator to secure your DreamArt Photography wedding photographer.
Blog posts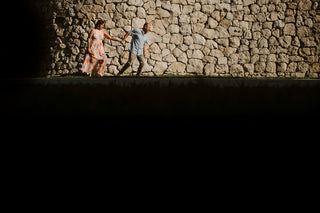 In this article we've broken down why this hotel is perfect for your romantic getaway, whether you're looking for a self-care weekend, an action-packed trip, or want a romantic getaway...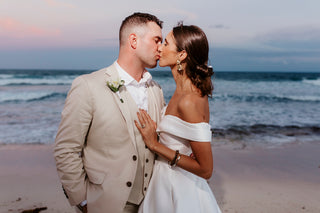 Your wedding day is a celebration of love, commitment and the start of a new journey together. It's a day filled with countless moments of joy, laughter, and tears of...