"The best part of our vacation!"
Mexico is the perfect backdrop for endless laughs, romantic hand-holding, or piggybacks on the beach, all captured in our 5-star experience referred to as "THE BEST PART OF OUR VACATION" by thousands. Relive your vacation forever with a magical photoshoot with DreamArt Photography. ❤️

Read some of our 800+ 5-star reviews
The DreamArt Experience
We're not just photographers, we're a fun, unforgettable experience to do with your loved ones. You'll love every minute!
Return home with priceless memories of your Mexican vacation to cherish forever. Time passes, memories are forever.
Our photographers are friendly and will make you feel comfortable throughout the session. Young kids? They'll invent fun games!
Receive your photos on a luxury USB and through your private online gallery. You can also turn them into greeting cards, prints, luxury books, and more.
Don't want to leave your hotel? No problem! We come to you, wherever you are in the Riviera Maya, Cancun, Tulum, Los Cabos, and Vallarta.
Easily change or cancel your booking free of charge up to 12 hours before your photoshoot (not that you'll want to...)
How it works
Before: We'll get in touch to organise our meet up location and discuss any photo preferences. You'll also receive tips on dress code and what to expect.
During: A top photographer will meet you at your hotel or desired location for your unforgettable 45 minute experience. They will take you to the best spots and guide you throughout the shoot, capturing priceless moments both candid and posed. To get 'real' photos, your photographer will encourage you to laugh, piggyback on the beach, get splashed by the waves, dance, and more. If you have young kids, they will play games with them too. You'll love every minute of your session!
After: A DreamArt representative will meet you once again to show you your photos. Be ready to get emotional! We'll show you 80-150 photos to choose from. You'll then receive your purchased photos via. a luxury USB and your private online gallery.
Creating memories since 2008.
Who we are.
Born from a French & British couple passionate about photography, their children, and living unforgettable moments; DreamArt has grown to become a team of expert photographers from around the world. About us:
→ We've done 60,000+ photoshoots with families and couples
→ We've got 15+ years of experience as photographers in luxury hotels
→ Our photographers are trained to the highest of standards in photography and 5-star service in our in-house Academie
→ We've got 800+ 5-star reviews
→ We are now taking bookings anywhere in the Riviera Maya, Cancún, Tulum, Los Cabos, Riviera Nayarit, and Vallarta. Wherever you're staying, we come to you!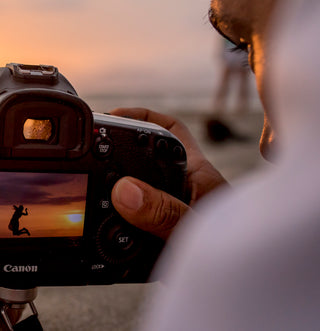 Questions? Chat with our team!
Have a question about our Lifestyle Experiences? Send an email to our team or send a message in the chat located at the bottom right of the screen.
A few hotels you might have seen us in
Follow us... @dreamartphotography