What is Lifestyle photography?
Lifestyle photography is all about capturing real-life situations, movement, laughter, an unforgettable moment, in an artistic manner. It's capturing real emotion, one we believe in. It's not just a click of the camera; it's storytelling through imagery using a combination of authenticity and natural poses.
As the founders of luxury lifestyle photography, we at DreamArt Photography have spent over a decade and a half meticulously refining this photographic art form. We've transformed cherished moments into timeless masterpieces in over 63,000 photoshoots. Prepare to be stunned, as all of the feelings you experienced during our session are conveyed in your photos.
The Lifestyle experience
Picture this: you're lounging in your dreamy hotel deck chair when one of our top lifestyle photographers finds you, ready to transform an ordinary day into an unforgettable 45-minute photographic adventure. This isn't just a photoshoot, it's a luxury experience and future memories of your magical vacation.
Guided by the expert eye of our photographer, you'll be whisked away to the most picturesque spots that perfectly frame your vacation. From candid moments of laughter to artfully posed snapshots, every click of the camera captures a slice of your time in Mexico.
Say goodbye to stiff poses and forced smiles. Our lifestyle photographers are experts at drawing out genuine emotion and joy. Whether it's a playful piggyback ride on the beach, dancing like no one's watching, or even getting splashed by waves, every photo brims with authenticity. And if you have little ones? Get ready for a fun-filled play session that captures their infectious energy on film.
Trust us, you'll love every minute of your family or couple's session, and every photo will be a keepsake to treasure forever. Ready to make unforgettable memories?
Before the photoshoot
Get ready to strike a pose! Before our luxury lifestyle photoshoot, we'll get in touch to discuss the perfect rendezvous spot and chat about your photo preferences. We'll also drop some handy tips on what to wear and what to anticipate. It's like a backstage pass to your own fabulous photoshoot!
Now, you might be wondering, "What should I wear to a Lifestyle photoshoot?" Well, think bold, bright, and absolutely you! Wear whatever makes you feel like the star that you are. Just a heads up though, our sessions often have a delightful habit of ending in or near the ocean. So, don't be surprised if your outfit gets a little splash of sea.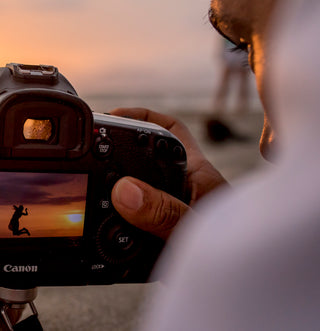 After the photoshoot
A friendly DreamArt representative will meet with you to unveil your stunning pictures. Get ready to experience heart-warming emotions as you go through 80-150 photos of your unforgettable session.
Once you've chosen your favourite memories, your chosen photographs will be delivered to you both on the spot on a luxury USB and via your very own private online gallery.
Want to put your memories around the house? Pop over to our Shop & Gifts page. Here you can transform your digital memories into luxury photo albums. You can also order canvases and prints directly from your private online gallery. The best part? They'll be delivered straight to your doorstep, ready to be admired on your return from your unforgettable vacation.
Wondering "what is the price of a Lifestyle photoshoot?" A lifestyle photo ranges between $9 and $35USD, depending on how many you decide to take home. Just to give you an idea, a 10 Pack is priced at $250USD, a 30 Pack comes in at $600USD, and if you want to go all out, a Full Pack (over 100 photos) is yours for $1,500USD.
Staying with one of our partner hotels? Then, consider yourself lucky! Your photoshoot session is free, and there's absolutely no obligation to buy. If you are staying elsewhere, we ask for a minimum deposit of $250USD when booking your photoshoot, which will be applied towards your final purchase. So, are you ready to step into the world of luxury lifestyle photography?
Why choose us?
We're not just photographers, we're a fun, unforgettable experience to do with your loved ones. You'll love every minute!
Return home with priceless memories of your Mexican vacation to cherish forever. Time passes, memories are forever.
Our photographers are friendly and will make you feel comfortable throughout the session. Young kids? They'll invent fun games!
Receive your photos on a luxury USB and through your private online gallery. You can also turn them into greeting cards, prints, luxury books, and more.
Don't want to leave your hotel? No problem! We come to you, wherever you are in the Riviera Maya, Cancun, Tulum, Los Cabos, and Vallarta.
Easily change or cancel your booking free of charge up to 12 hours before your photoshoot (not that you'll want to...)
Questions? Chat with our team!
Have a question about our Lifestyle Experiences? Send an email to our team or send a message in the chat located at the bottom right of the screen.
A few hotels you might have seen us in
Follow us... @dreamartphotography